October
Class Scheduler: a primer
Launch of new platform to take the guesswork out of finding the right classes at the right times for students.
October 23, 2017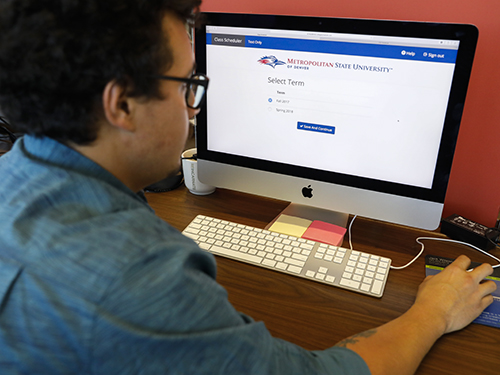 Instead of clicking through multiple menus and needing to sketch out a physical calendar, Roadrunners now have a streamlined way to pick the classes that work best for their busy lives.
Launched Monday, Class Scheduler is a tool that simplifies the registration process. It appears to students in their Banner self-service menu, where they can click to launch the program. Similar to online-retailer "shopping cart" environments, the program enables students to pick and choose courses based on what works best for them.
The option to develop multiple schedules and see a visual calendar gives students a streamlined way to build several configurations. And when they confirm, they'll be registered immediately.
"There's a big implication for retention and success with this product," said Matt Hooley, associate registrar of systems management. "It's extremely flexible; the more students put into it, the more they'll get out of it."
Working with their academic advisers, students are also able to build schedules out ahead of time, so when registration opens for them, they can simply confirm and get the classes they want. And because it's digital, they'll be able to do it from just about anywhere.
"(With MSU Denver) being a commuter school, so many people just don't have the availability to meet with someone at a time that works for them," said Kendra Stansbury, associate registrar of records and registration. "This is one more way we can help simplify the enrollment process for our students."
Eventual integration into Degree Works is also planned, so students will have a customized interface to show them exactly what they need for their specific degree plan. The traditional "Add/Drop/Withdraw" menu will also remain active for those who don't wish to use Class Scheduler.
Trainings are being scheduled; for more information, contact Stephanie Allen or Kendra Stansbury.
Edit this page