October
Running roads around the calendar
Eligible students can keep their studies going strong, thanks to the reintroduction of year-round Pell funding.
October 18, 2017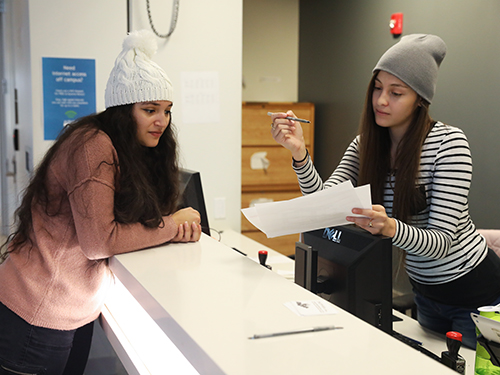 Pell grants provide the opportunity for many of our students to achieve their dreams of transformation. So with recent changes, we sat down to chat with Thad Spaulding, executive director of financial aid and scholarships, to learn more about what this means for eligible Roadrunners.
So what is happening?
The United States Department of Education has authorized year-round Pell grants for qualified recipients. Eligible students will be allowed to receive up to a whole additional term of Pell grant – instead of 100 percent of funding annually under the current structure, they're now able to receive 150 percent, providing resources for students to enroll in summer.
Before, many students would previously max out their Pell eligibility by going full-time in the fall and spring, then need to take the summer off to work and save up money – since they weren't eligible for this aid. With year-round Pell, there's the prospect to take six or more hours in the summer, receiving the grant to help pay for classes and creating a pathway for quicker degree completion.
That seems like a big deal, right?
It's a huge deal – it allows students to use up to a full term of their Pell grant award in summer as well as the rest of the academic year and expedite their time to graduation.
With about a third of our students Pell-eligible, it affords a substantial population the opportunity to keep building on their success, year-round. And the best part about it is that it's automatic – we'll package it for anyone currently enrolled and eligible. If they apply for aid, it'll be packaged for both, without any extra application or anything else required– it's great.
What are questions that come up?
People ask about a couple of things. First, students who are full time in fall and spring need to enroll in a minimum of six credit hours in the summer to access the additional Pell grant funds; students who are not enrolled full-time fall and spring don't need to worry about this requirement.
Second, students may only receive six full-time years, or 600 percent of Pell grant total, in pursuit of their first undergraduate degree. This is known as the Pell lifetime eligibility used. If a student does go full-time in fall, spring AND summer and receives Pell grant for all three terms, it equals 150 percent over the year – that's subtracted from the 600 percent amount.
Anything else you'd like people to know?
We want our students to come to school! It's important for them to keep building on momentum, and the last time the government offered year-round Pell, it resulted in a significant bump in enrollment.
If you have questions, please reach out to us at the Office of Financial Aid and Scholarships.
Edit this page