October
Are you a Latino or Latina faculty or staff member?
Get involved with the Latino/a Faculty and Staff Association.
October 18, 2017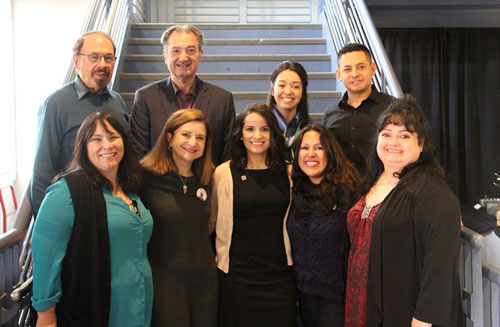 Have questions about the Latino/a Faculty and Staff Association? We caught up with Evelynn Guzman de Leon, New Student Orientation coordinator and president of the association to get a few answers.
What is the purpose of the Latino/a Faculty and Staff Association (LFSA)?
LFSA is an association created to facilitate and assist in the pursuit of the interests of the Latino/a community at MSU Denver and to foster unity and cooperation among that community via programming and active participation in the Latinx-driven campus initiatives and programs such as the Latinx Welcome and the Latino Graduation. We also provide fun social activities throughout the fall and spring semesters outside of the work/campus purview.
What kinds of things does LFSA do for faculty and staff?
We host social events on and off campus for our Latino/a faculty and staff and anyone who would like to come and be part of our community. We host monthly member meetings to come together and see the ways LFSA can benefit the campus community. We also have monthly newsletters that go out to our listserv once a month in the fall and spring semesters with information about events happening within LFSA or around our campus community that our members may be interested in.
Another opportunity LFSA offers is through our leadership positions. We have an executive board made up of a president, vice president, secretary and treasurer. These positions are up for re-election every spring semester in March-April. The current executive board encourages anyone who is interested in taking on a leadership role at the University to consider being part of the LFSA executive board as it continues to open doors for each of us, and we want the rest of the campus community to have the same opportunities to be leaders on our campus.
What does the association provide for students specifically?
Our association has a foundation account that receives monthly contributions from our members to raise money for student scholarships. This scholarship is offered to MSU Denver students who have shown established commitment to the Latino Community and culture. Any faculty and staff regardless of LFSA membership can donate to our foundation account at HFS51.
What is the process that anyone who is interested in being a member should go through?
We have two forms of membership. Non-dues membership allows for access to our listserv, newsletters and socials. We do not want to take away from anyone a great opportunity to network or to be informed.
Then there are our members who pay monthly membership via donations that are deducted directly from their monthly pay. Those donations go to our scholarship fund that I mentioned earlier or our organizational fund that allows for us to purchase things such as MLK Peace Breakfast tickets for members and help fund our member socials. We really encourage everyone who is interested in being part of LFSA to become a dues-paying member with a monthly contribution of $5 to $25 or more if they would like. Most important, according to our by-laws, only dues-paying members are eligible to run for office and vote in the executive-board elections.
We are growing and encourage anyone who has questions about our membership to visit our website at www.msudenver.edu/lfsa. If you would like to contact us to be part of our listserv or to donate to our scholarship fund, you can also reach us through our website.
Edit this page