October
Faculty Senate announces Teaching Excellence Award winners
Parker, Schliemann and Loats lauded for classroom excellence.
October 12, 2017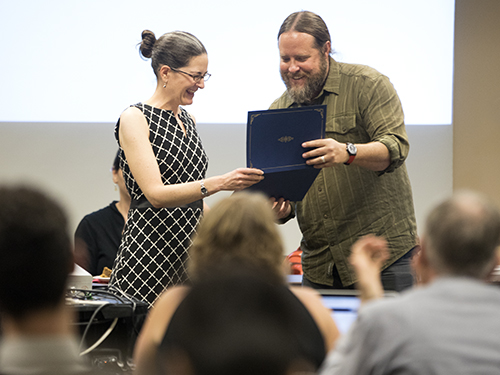 Last week's Faculty Senate meeting showcased some of MSU Denver's best teachers.
Professors Jeffrey Parker, Sarah Schliemann and Jeff Loats were selected for the Senate's Teaching Excellence Awards, which are given to faculty members who demonstrate success in the classroom. Each winner gave a short "Teaching Excellence Award Talk," or "TEA Talk," that allowed them to share some ideas on how to improve as teachers.
"At the heart of my teaching, I try to get students interested in what I believe is a fundamental question," said Parker, an assistant professor in the Department of Theatre. "A lot of people think that when actors and directors get a script, they ask, 'How?' But I think we should be asking, 'Why?' It brings curiosity bubbling up to the surface."
Schliemann, a lecturer in earth and atmospheric sciences, talked about the importance of involving students in research and highlighted its benefits to a student's educational experience. "Research teaches problem-solving and critical thinking," she said. "It's also fun."
Loats, a physics professor, took the opportunity to encourage attendees to learn as much as they can about becoming better teachers and use proven techniques such as iterative learning in the classroom.
The Faculty Senate also introduced the first two recipients of a new post-doctoral diversity fellowship. The fellowships, which were the brainchild of faculty members Wilt Flemon, Francisco Barbosa and the Senate's diversity committee, are designed to add diversity to MSU Denver's faculty. Each fellow receives a two-year appointment as a category 2 faculty member.
Felix Flores will teach several classes in marketing and business, while Richard Sandoval will teach courses in sociology and anthropology.
In other business:
The Senate approved a motion to charge its welfare and budget committee to research the feasibility of a tuition benefit program for faculty dependents.
Jessica Weiss gave an update on academic-policy management covering several issues that affect students, including incompletes and the registration wait-list policy.
Jean-Francois Duclos updated the Senate on the work of the curriculum committee, which has been looking into course names, among other proposals.
The next Faculty Senate meeting will take place Oct. 18 at 3:20 p.m. in Tivoli 320.
Edit this page