October
Congratulations are in order
Tenure and Promotion Reception heaps plaudits on some of MSU Denver's best teachers and researchers.
October 2, 2017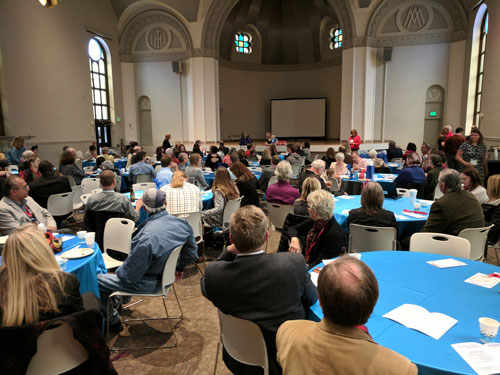 The mood was ebullient inside St. Cajetan's on Wednesday as a cadre of MSU Denver's brightest teachers and researchers gathered for the University's annual Tenure and Promotion Reception.
Over plates of pasta, 19 faculty members were celebrated for their promotion to full professor while 24 more faculty members were honored for earning tenure and being promoted to associate professor.
President Janine Davidson welcomed the honorees — many of whom were surrounded by friends and family — and warmly congratulated them for attaining a "more senior role" at the University and for making "it over that final tenure hump." She also told the crowd that student success begins with passionate faculty.
"When I look at CADRE, which I think is cool, and I see the 'E,' I know it's supposed to stand for 'entrepreneurship,' but I think it should also be for 'excellence,' and it's because of the excellence we provide the students," Davidson said. "And that starts with each and every one of you in your individual fields."
For Alex Komodore, who started teaching music at MSU Denver in 1985 and has worked at every level of teaching in that time, the ceremony marked his promotion to full professor.
"I like to think of it as a beginning," the classical guitarist said. "While I'm getting recognition, my teaching is at the heart of my being. Really, it just boils down to being a great teacher."
Master of ceremonies and Provost Vicki Golich introduced each faculty member with personal anecdotes. Those in attendance found out the honorees are great teachers but that they also act, surf, garden, bake, home brew, run marathons, write novels, teach Jazzercize, renovate their homes, fly fish in the mountains, sing in Rush cover bands and save cats in Syria.
Wrapping up, Golich told the faculty members, "Know that you are making a huge, positive difference in the lives of thousands of people."
Barb EchoHawk, an associate professor of geology and environmental science, plans to continue her research in Wyoming's Killpecker Sand Dunes and being a rock star in the classroom.
"It's an honor," EchoHawk said. "[Tenure] affords some scholarly freedom as far as research and following up on questions."
Edit this page