September
Castro professorship takes care of business
Celebrating the late civil-rights activist's legacy, annual event explores the intersection of race, gender and political power.
September 27, 2017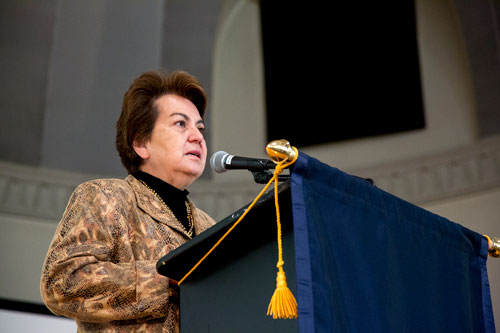 Marking its 20th year, the Richard T. Castro Distinguished Visiting Professorship took place in St. Cajetan's on Monday.
The event was kicked off by Adriana Nieto, associate professor of Chicana/o Studies and chair of this year's professorship event, themed "Takin' Care of Business in la House (and Senate): Latinas y el Poder." She introduced President Janine Davidson and Ramon del Castillo, professor and department chair of Chicana/o studies, for brief remarks.
Christine Sierra, an emeritus faculty member at the University of New Mexico and this year's Castro professor, then moderated a panel of prominent Latina political figures. Participants were Polly Baca, former chair of the Democratic Caucus of the House of Representatives; Celina Benavidez, former state representative; Virginia Castro, former manager of Denver Public Schools Social Work Services and widow of Richard Castro; Laura DeHerrera, former state representative; Crisanta Duran, legislator and current speaker of the Colorado House of Representatives; Lucía Guzmán, Senate minority leader; and Paula Sandoval, former member of the Colorado state Senate and Denver city councilwoman.
Sierra asked the panel about what made them first run for public office, their greatest accomplishments and the influence of family on their successful careers.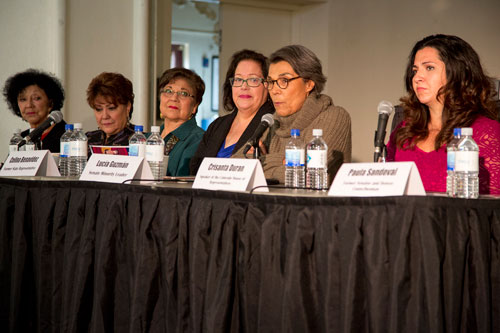 "As the first Latina speaker of the House in Colorado, it's so important to have new people getting involved in politics right now," Duran said. "As the daughter of a labor leader and an affordable-housing advocate … I think about equity every day walking into the state legislature. It's an honor to serve."
Asked if Latinas should seek positions in politics, Guzman said: "It's important for all women to consider running – if you want to do that. … We know how to gather the family and bring people together, how to invite everyone to have a seat at the table."
Other topics discussed included how to balance being a public servant with a personal life, steps for youth to become politically engaged and the ways in which the Latinx and black populations can further work together.
The panel was followed by a roundtable student session, the keynote address from Sierra, a book signing and reception.
Edit this page