September
Love sports? Join the Roadrunner Club
You can support MSU Denver's student-athletes on the field and in the classroom.
September 26, 2017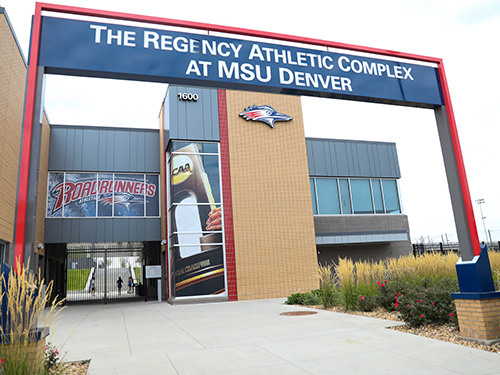 Metropolitan State University of Denver has an amazing history of athletic success, with four NCAA team national championships, five individual national championships, 38 Rocky Mountain Athletic Conference tournament championships and 35 regular-season championships since 1996.
But did you know that Roadrunners Athletics awards only 65 percent of permissible NCAA scholarships? Imagine how we could redefine success if we had access to the other 35 percent. That is where the Roadrunner Club and you come in.
The Roadrunner Club is made up of dedicated supporters who are committed to the success of our student-athletes in the classroom and on the field of play. Members of the Roadrunner Club are an integral part of the team, ensuring that our over 200 student-athletes have the best student-athlete experience possible. From the highest-caliber competition to the most comprehensive academic experience, support from the Roadrunner Club is paramount to the success of our student-athletes.
"We appreciate the longstanding support of our athletic programs by the faculty and staff on this campus," said Anthony Grant, MSU Denver's director of athletics. "The revenue generated from memberships to the Roadrunner Club goes directly to supporting scholarships and operations to enhance the overall experience of our student-athletes. Therefore, support for the Roadrunner Club is an investment in student success, which is consistent with the mission of our institution."
It is easy to join the Roadrunner Club. Faculty and staff can become members online or through payroll deduction – and there are a variety of membership levels that can fit into any budget. Each membership also comes with awesome benefits – the higher the level, the better the benefits. Join the Roadrunner Club at the $150 MVP Club Level, and you will receive all-sport season tickets for two people, as well as VIP donor passes to the Nest lounge, which includes food and drinks. It is an incredible deal for you and MSU Denver student-athletes.
Show your Roadrunner pride and help us redefine success for our student-athletes when you join the MSU Denver Roadrunner Club today and run with us!
Go, ROADRUNNERS!
Learn more about schedules and teams, and shop for Roadrunners gear, on the Roadrunner Athletics website. If you have questions, email brideout@msudenver.edu.
Edit this page