September
Jordan receives rare city honor
Denver Mayor Michael Hancock awards former MSU Denver president a gold challenge coin – the highest honor in the city.
September 21, 2017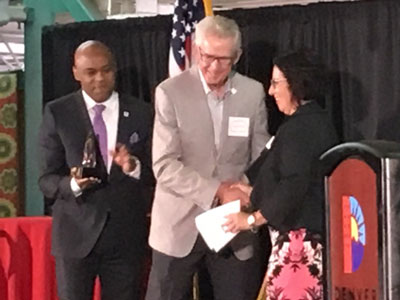 Denver Mayor Michael Hancock surprised former MSU Denver President Stephen Jordan on Tuesday with a prestigious city award.
Jordan was attending an event to accept a 2017 Mayor's Diversity and Inclusion Award from Hancock and the Denver Latino Commission for his "courageous leadership in creating a nonresident tuition rate for Colorado's undocumented students that heralded the passage of the Colorado ASSET bill."
But the Denver mayor chose to bestow another accolade on Jordan during the ceremony. Hancock gave Jordan a Denver Gold Challenge Coin – an honor on par with receiving a key to the city very few have received during Hancock's time in office.
Jordan joins former U.S. Presidents Obama, Clinton and Carter as well as several military heroes as recipients of the coin.
"Dr. Jordan – not the president of the United States, not members of Congress – was the first to stand up and say, 'these are our DREAMers and we should invest in them,'" Hancock said.
Edit this page