September
It's official!
Census shows enrollment increase, HSI milestone achieved.
September 20, 2017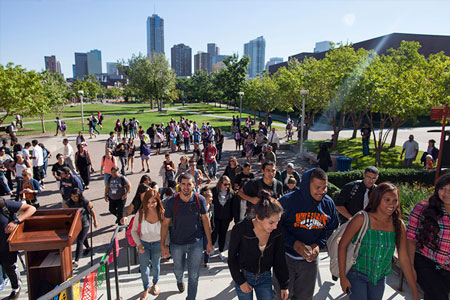 MSU Denver is a more diverse institution with more full-time students who are taking more credit hours according to the recently released fall 2017 census.
Census numbers show the University's enrollment for fall 2017 is up .5 percent over fall 2016, breaking a downward trend over the past six years. The total headcount stands at 19,544.
"We have finally stopped the decline," said Lori Kester, associate vice president of enrollment management. "That's why we're going to be focused on student success, so we can keep more students here and on track toward graduation."
The University also achieved Latino enrollment of 26.4 percent—a major requirement for designation as a Hispanic Serving Institution (HSI) by the federal government. The census also shows the average number of credit hours taken increased from 11.38 to 11.61.
In another positive development, the number of freshman students increased 7.1 percent over last year—a number that bested recent projections. The uptick means more students choose MSU Denver directly from high school.
"Our high school recruiters are seeing an increased number of high school counselors who are telling students about MSU Denver," Kester said. "We're now hearing from high schools that MSU Denver is the No.1 choice and we're moving away from being the back-up application to other applications."
Here are few more numbers of note:
Female students are 53.3 percent of the student body. Male students represent 46.7 percent.
The median student age is 23—unchanged from the past two years.
Students of color make up 42 percent of the student body, up from 39.5 percent in 2016.
There are 357 ASSET students.
33.9 percent are eligible for Pell grants.
"This is a tribute to all the hard work that was done from advisors to department chairs, faculty to admissions and financial aid," Kester said. "Staff across the board came together and made sure we were able to get additional students in the door. But it also means we need to continue to work on our student persistence and student retention rates."
Topics: Hispanic Serving Institution
Edit this page