September
A look inside the President's Cabinet
Campus climate survey analysis and process modifications reaffirm Davidson's commitment to collaborative excellence.
September 19, 2017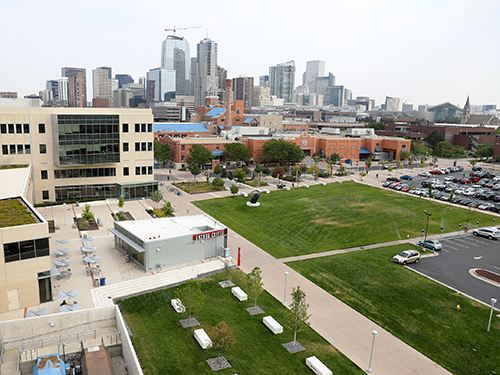 President Janine Davidson kicked off her second President's Cabinet meeting by revisiting her call for it to serve as a vehicle for collaborative and productive processes.
"I hope for this body to become a mechanism for decision-making that moves the ball forward," Davidson said. "The next step is figuring out the mechanics in a way that's inclusive as possible."
Cabinet members then discussed the campus climate survey data, collected by ModernThink, a research partner contributing to the Chronicle of Higher Education's "Great Colleges to Work For." This is the third time MSU Denver has participated in this particular survey, building on data sets from 2010 and 2013.
Myron Anderson, associate to the president for diversity, noted the increased response rate compared to 2014 before introducing Rich Boyer, founding partner of ModernThink, to discuss results and implications. Conducted from Feb. through March of 2017, the instrument measured 60 core belief statements that underscore key institutional benchmarks.
Of these statements, 42 showed improvements of five percent or more, while only three showed a regression of the same margin. With that scale of improvement, it's not likely to be an attributed a spurious statistical result, Boyer said.
The fundamental question of the survey – a question that read "All things considered, this is a great place to work," – saw a growth from 63 percent of respondents in 2013 to 70 percent in 2017. Boyer attributed part of this to strong mission-driven institutional commitment found throughout the Roadrunner community.
"Faculty and staff are a lot of things here at MSU Denver, but disengaged is not one of them," he added.
Some of the strengths Boyer identified were institutional pride, general happiness with work-life balance, efforts of inclusiveness and a commitment to address bullying. Opportunities for growth included addressing resource constraints, examining compensation and benefits related to individual workload, performance management, communication, collaboration, respect and recognition.
The process of empowering department chairs as decision-makers was also discussed, along with the acknowledgement of the vast majority of faculty who go above and beyond in their job duties.
In parting, Boyer offered three specific recommendations: To continue being curious about the survey data and what drives it, to be solutions oriented, and to have a partnership mindset.
Other updates included:
The Welcome Home and Town Hall events were successful, underscoring the opportunity of ongoing community dialogue and strategic alliance-building.
Student Government Assembly (SGA) has joined a tri-institutional effort with other student governments; SGA also continues to work on efforts to advocate for those affected by the DACA ruling.
Tina Wells has been officially named as Director of Facilities.
Provost Vicki Golich announced the authorization of two new tenure-track faculty lines; a search will begin for one in criminal justice and one in journalism/technical communication. She also encouraged attendance at the Tenure and Promotion reception on Sept. 27 at 5 p.m. in St. Cajetan's.
Two changes were made to President's Cabinet: the switch to monthly meetings (instead of biweekly); and the addition of representatives from advancement, human resources and athletics.
The Roadrunners Athletics Hall of Fame induction happens Oct. 7 in the Tivoli Turnhalle.
Edit this page