September
Faculty Senate update
Compensation, reaccreditation and support for DACA community among conversation at assembly meeting.
September 11, 2017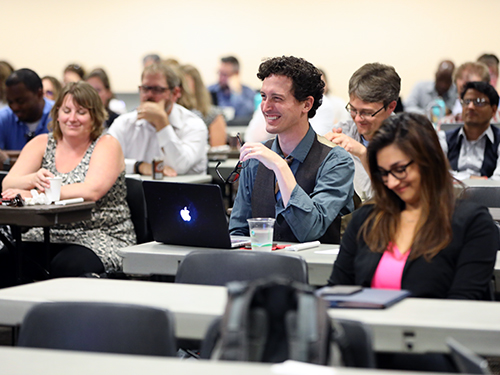 The second Faculty Senate meeting convened in the Tivoli on Wednesday. The assembly kicked things off by welcoming Vicki Golich, provost of MSU Denver, who first thanked the faculty for their work on bolstering enrollment and advocacy for community members affected by the recent DACA ruling. She highlighted the FAQ hosted on the president's website as a resource for faculty members.
Golich also announced that MSU Denver has officially been reaccredited by the Higher Learning Commission after its recent visit and she mentioned that the new academic-policy-review process is in place. Additionally, she said the University has hired Dino Hernandez as vice president of University Advancement and executive director of the MSU Denver Foundation.
Next, Associate Vice President for Administration/Controller George Middlemist and Diretor of Human Resources Josh Mackey addressed the Faculty Senate with an updated overview of promotion and compensation. They detailed the different kinds of pay cycles currently in place, the budgetary breakdown with recommendations to be presented to the Board of Trustees (including 1 percent salary increases for faculty and administrators, plus a 2 percent across-the-board increase for affiliate faculty) and the efforts to standardize practices.
Middlemist and Mackey then took questions from the floor about average salaries and how rates were calculated before thanking everyone and inviting further conversation with anyone who is interested.
Kat Martinez, assistant professor in the Institute for Women's Studies and Services, then invited the group to a series of trainings as part of Roadrunners First. The advocacy group for first-generation students works to address identified needs of faculty and staff members; resources and workshop information is found on the CESA website.
Further business included voting to approve previous minutes, an update on re-engaging winners of the Faculty Senate Teaching Excellence Awards and proposed language for three new at-large Senate seats, along with brief committee updates.
Matt Makley, Faculty Senate president and history faculty member, also addressed the group regarding those affected by DACA, highlighting resources available on the Immigrant Services website.
"It's grim news for our community; as appropriate, I'd encourage everyone to say in class we're here as support," he said. "It's important to do whatever we can to keep students in our thoughts and support them here on campus."
Edit this page