September
5 ways to help your student employee
Student employees abound at MSU Denver. Here are some ideas to help them survive and thrive.
September 7, 2017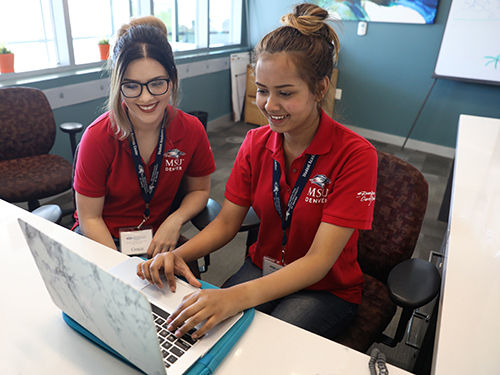 With nearly 1,000 student employees, MSU Denver is certainly tapping into the student power across campus. However, not all of them are used as effectively as they could be. Ramona Morris, student-employment program manager, and Angela Bender, assistant director of human resources, offer some tips to help your student employee make the most of their experience:
Set them up for success – even on the first day
Have you ever started a new job unsure of what tools you'd need to complete the task? Have you been frustrated on the first day not knowing what to do or feeling unwelcome? Well, that's how it can feel for student employees sometimes. Just like regular employees, student employees need clear directions, such as an overview of office equipment and where important things within the department are. If they don't have all of the proper equipment, program access, technology, etc., that they need to complete their tasks, success can be hard to attain. By showing your employee the "lay of the land" when they start their position, you can set the entire student experience off on the right foot.
Establish clear expectations
This may seem like a no-brainer, but it's a bit more involved than it sounds. Making sure a student employee fully understands their role and job duties is essential to their success in that position.
Don't assume that they innately understand all of their responsibilities or that they are familiar with all of the office equipment or computer programs they'll be using. Some student employees have never used a copy or fax machine, for example, so offering a little guidance could go a long way. Also, making sure things such as dress code, phone etiquette, how to greet visitors, etc., are clear from the start will lay a good foundation for how these employees perform.
Something to note (when applicable): Ensuring that students are clear about how to properly handle confidential or sensitive personal information is important. Improper training in this area can equal a bad experience for the student employee and create unnecessary problems for the office in general.
Keep open lines of communication
Every job runs more smoothly when the employees and management are on the same page; student employees are no exception. There are many ways to accomplish this, but establishing an "open communication" policy from the beginning is a good start. Make sure student employees know whom to call if they're running late or can't make it in to work, and that they're able to ask questions about their job/tasks at hand and so on.
Keeping the lines of communication open also helps cut down on such things as attendance and performance shortcomings. If problems do arise, instead of just writing the student up, sit down and talk with the student to find out why they're having trouble – it could be as simple as needing a schedule change or more instruction about their job.
Face-to-face interactions with student employees help develop a stronger connection between the student and other department members, which in turn can help the student feel more valued in their job and enhance their performance.
Expose students to all aspects of the department
The university experience happens in more places than just the classroom. Allow your student employee to be involved in as many tasks in your department as possible. Hands-on experience using critical-thinking skills, problem-solving skills, problem resolution and customer service can be valuable for the student when they leave the University. Identify ways for student employees to be involved in more than just basic tasks. The more experience they have, the more valuable they will be as an employee.
Introduce new student employees to as many people in the department as possible, especially "key" people the student employee may need to know (e.g., the head of the department). Familiarizing them with faculty and staff while they're working as student employees is something that might help them form connections that could benefit them.
Communicate the importance of their student position
The performance of student employees, as with all types of employees, may range from "wonderful" to "we have a problem" and everything in between. Imparting the importance of treating their student employment as a professional position vs. "just a job" can go a long way. Helping them establish professional behavior and experiences before sending them out into the mainstream workforce is just another way MSU Denver can help them be successful.
Edit this page