July
Jordan recognized by Downtown Denver Partnership
Former president honored for his contributions to downtown Denver, higher education
July 26, 2017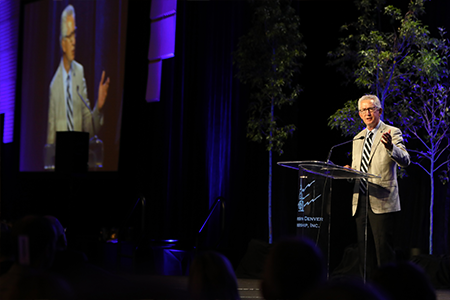 Former President Stephen Jordan received an Honorary Partner Award from the Downtown Denver Partnership on Tuesday.
Jordan, who served as MSU Denver's president from 2005 until his retirement in June, was cited for affecting the future of thousands of students, launching programs to make MSU Denver a great urban university and aligning higher education with downtown Denver's business community.
The DDP also recognized Jordan's work to achieve University status, improve access to higher education for local students and graduate workforce-ready students. As an example, the DDP pointed to Jordan's recent collaboration with Lockheed Martin to create curriculum that supports advanced manufacturing and aerospace and aviation. In addition, the DDP lauded Jordan's nonresident tuition rate, which led to Colorado's ASSET bill and an "open door" for all students.
"Throughout his career, he has not only impacted the future of tens of thousands of students, but stewarded alignment between higher education and downtown Denver's business community," said Trini Rodriguez, chair of the DDP's Denver Civic Ventures board.
Jordan served on the Denver Civic Ventures board of directors, where, according to the DDP, he was a passionate advocate for MSU Denver and the Auraria Campus to become an economically vital part of the city.
According to the DDP, Honorary Partner Awards are given to "individuals who have demonstrated exceptional long-term commitment to downtown Denver and the Downtown Denver Partnership." Winners must have been associated with the DDP for at least 10 years and have made "contributions to the vibrancy, diversity and the uniqueness of downtown by participating on various committees, task forces and projects."
Jordan acknowledged the DDP for contributing to the community and opening its arms to those looking to build a more vital downtown with opportunities for all.
"Thank you for this recognition and this honor; I am truly grateful," he said.
Edit this page