July
A high-flying birthday surprise
Donor Alan Fox celebrates 85 years with a trip to the World Indoor Airport.
July 25, 2017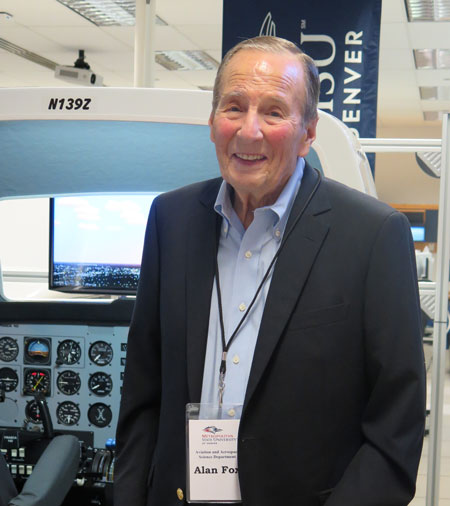 MSU Denver is committed to engaging the community in scholarly inquiry, creative activity and the application of knowledge. Serving the community creates lifelong bonds that affect the growth of MSU Denver in a way that has positive effects beyond campus borders.
Because of one of those connections, the Department of Aviation and Aerospace Science was able to make birthday dreams come true for someone devoted to the mission and vision of the University: Alan Fox.
Though he never enrolled as a student at MSU Denver, Fox is a donor who considers himself a lifelong learner and advocate of higher education. In 1984, Fox was seeking a way to keep his aviation skills current when he discovered the University's Lifelong Learning – Metro Meritus program.
Through this program, Fox was able to take a flight-simulator course on campus at no cost. He repeated the same course for 14 semesters straight — the ongoing joke is that he would purposely "flunk" his course so he could repeat the class.
In early 2017, Fox's son, Jack, approached Department Chair Jeff Forrest about the possibility of having space in the Multi-Engine Simulation Lab named after his father as an 85th-birthday present.
On May 12, surrounded by family and friends for a special event held at the World Indoor Airport, Fox received an out-of-this-world birthday gift: a row of flight simulators named after him, made official with a permanent plaque in the lab. He was thrilled to once again have the opportunity to get into one of the simulators during his evening on campus.
Fox was not the only one to receive a gift during the event. The evening's festivities also included the presentation of a gift from the Fox family. Fox; his wife, Katherine; and their children, inspired by the department's gift to Fox as well as their long-term relationship with World Indoor Airport manager and affiliate instructor T.J. De Cino, donated $50,000 to the Department of Aviation and Aerospace Science to benefit future students and programs.
At midsummer, Fox will once again return to campus to receive a take-home plaque as well as a desktop model of Fox's favorite plane, the Cessna 210. A larger model of that same plane will be hung in the lab above the student check-in area.
The Department of Aviation and Aerospace Science and its students will continue to grow and flourish because of engaged community members such as Alan Fox and his family, who, like MSU Denver, are committed to transforming lives.
See more photos from the Multi-Engine Simulation Lab naming event.
Ed. Note: An earlier version of the story misstated the time Fox started visiting MSU Denver.
Edit this page