July
Your invitation … to Convocation
Faculty and staff are invited to welcome new students to campus.
July 21, 2017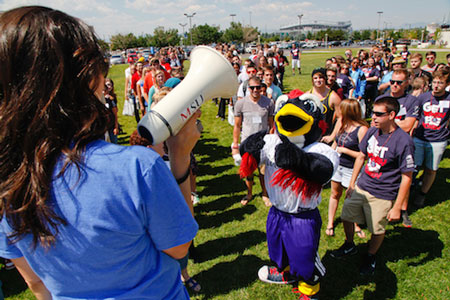 All University employees and their families are invited to join First Year Success and Transfer Student Success in welcoming first-time-to-MSU Denver students to campus at Convocation on Aug. 17 from 6 p.m. to 8:30 p.m. in the PE Events Center.
Convocation is the bookend to graduation — the first event on campus that initiates students into Roadrunner life at MSU Denver.
For first-time, full-time freshmen and transfer students, the festivities are designed to instill Roadrunner pride, help new students engage with the University community and connect to campus resources, and inspire them to achieve academic success.
This year's ceremony will include an official welcome to new students and their families from MSU Denver President Janine Davidson, followed by a keynote address from alumnus Troy Walker — a lawyer, actor and nationally known comedian.
Additionally, students will learn the Roadrunner pledge and the MSU Denver fight song, and everyone can participate in various community-building activities. Dinner, music and lawn games will follow.
Let's welcome our new students and families to MSU Denver and show them every day is a great day to be a Roadrunner!
Parking validation for the 7th Street Parking Garage will be offered to all faculty and staff who attend.
For more information, visit msudenver.edu/fys.
Edit this page