July
DIME Denver to leave campus
The innovative commercial music program finds a new Denver home.
July 20, 2017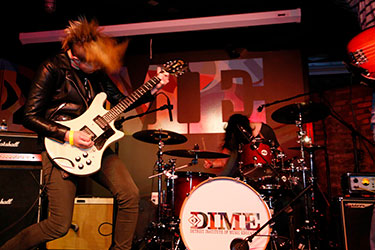 The Detroit Institute of Music Education and MSU Denver have hit another high note.
The commercial music-education program — a public-private partnership between the University and DIME — will move to a 10,581-square-foot space at 800 Kalamath St. in Denver.
Nicknamed "The Limehouse" for its lime-green exterior and because it rhymes with DIME, the new location significantly expands space for students and moves the program to a high-visibility location in the Santa Fe Arts District near MSU Denver's Center for Visual Art.
"This gives us the infrastructure to grow in the way we think the program can grow," says Peter Schimpf, chair of MSU Denver's music department. "It'll give our students that many more opportunities to engage in the music program."
Since its arrival on campus, DIME has operated out of its "Pop-Up Shop" — a downstairs space in the Tivoli Student Union across from the Tivoli Brewery.
Classes should start Sept. 11.
Edit this page