July
Volunteer for the MLK Peace Breakfast
Help promote diversity and equality on campus and the greater Denver community.
July 19, 2017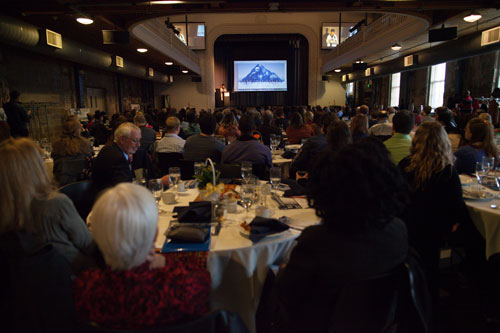 The Martin Luther King Peace Breakfast Planning Committee is seeking volunteers for the 2018 Peace Breakfast event.
Initiated on Jan. 15, 1992, the Peace Breakfast commemorates the philosophy and values of the late Rev. Martin Luther King Jr. by promoting diversity and equality for all within our campus community and the greater Denver community. Every year, it is one of Metropolitan State University of Denver's flagship events.
In 2018, the MLK Peace Breakfast is scheduled for Jan. 12 from 7:30 a.m. to 10 a.m. at the Tivoli Turnhalle.
The highlight of the breakfast is the awards ceremony, which acknowledges and celebrates individuals within MSU Denver and the city who keep King's spirit and dream alive through their contributions to peace, justice, diversity, equality and social change.
The 2018 breakfast will mark the 50th anniversary year of King's assassination.
The MLK Peace Breakfast Planning Committee is crucial for the success of the annual event and comprises volunteers from across the MSU Denver campus. This year, the committee is looking for three to five new volunteers. It is a rewarding volunteer commitment and experience.
If you are interested in joining the committee, please email Carrie Warren at ctwarren@msudenver.edu. The first planning meeting is scheduled for July 28 from 1 p.m. to 4 p.m. at the Blair Caldwell African American Research Library, 2401 Welton Street in Denver.
Edit this page