July
Call to action: Fall registration
Transformation happens when students register for classes. We need your help.
July 18, 2017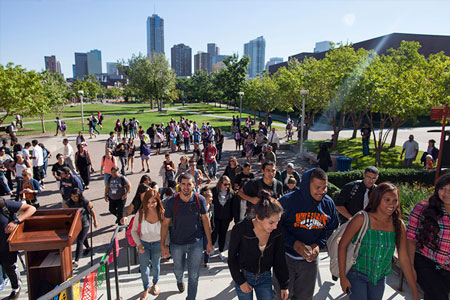 Roadrunner success stories are a community effort – and right now, it's all-hands-on-deck to ensure we accomplish them.
"Application numbers are up, but we're currently down 0.3% in enrollment for fall," said Lori Kester, associate vice president of Enrollment Management. "We need all the help we can get to assist students across that registration finish line."
Kester said there are about 7,700 students in the pipeline who are eligible to register that haven't yet done so.
To address this disparity, efforts include offering accelerated versions of student orientation, advising and registration (SOAR) sessions. Enrollment Services is working cross-departmentally on a targeted communication campaign to these students. Advisers are also in the middle of conducting campaigns to contact students directly via phone calls and Student Success Collaborative outreach.
As Kester detailed, we know these efforts work – but bandwidth is stretched thin.
That's where the Roadrunner community comes in.
"Whether it's calling students, helping with the accelerated orientations or SOARs, hands-on help with financial aid or anything else you can do, we really need extra help to get students registered," Kester said. "If you or your staff have any time to help this summer, please reach out."
Interested in helping out and contributing to student transformation? Contact Lori Kester.
Edit this page