July
Helping vets catch a break
MSU Denver's 'Break Pay' employment program helps veterans bridge the income gap.
July 17, 2017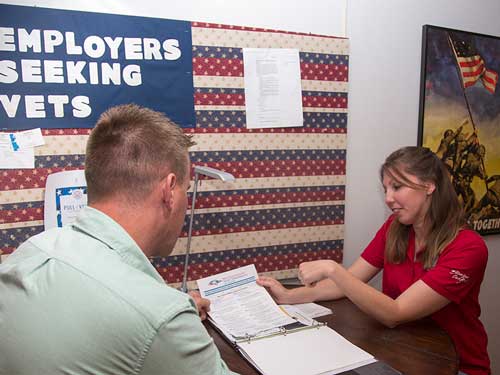 Finding a way to fill the income gap between academic semesters for military veteran students using GI benefits is often a challenge.
As a result, MSU Denver started a pilot program a few years ago called Break Pay, which offers eligible veteran students much-needed short-term employment during break when Veterans Affairs benefits are reduced. The program previously ran only after the fall and spring semesters ended. However, because of a number of participants who have benefited from the program, it will now run between all break periods.
The Break Pay program was designed by MSU Denver in collaboration with the Auraria Higher Education Center, after John Johnston (B.S. '16 Marketing), a veteran and former MSU Denver student, pitched the idea to the University.
"Its purpose is to give veterans using the Post 9/11 GI Bill the ability to earn an income for those periods while they're in between semesters and aren't receiving the full amount of their living stipends they would normally receive from the VA," said Braelin Pantel, associate vice president for student engagement and wellness/dean of students.
"The original idea came from seeing myself in need during a winter break," Johnston said.
Students using the Post 9/11 GI Bill have the full amount of their tuition and fees covered by the VA at the in-state rate and are also afforded a monthly housing allowance for time spent in class. However, students aren't always present in class for the entire month, such as when a semester begins or ends during the middle or end of the month. When this happens, the VA prorates the student's living stipend, so veterans go three to six weeks without pay after a semester ends and before the following one begins, with the longest period occurring during winter break.
The VA previously paid a student veteran their housing allowance during break periods as long as the veteran was registered for the following semester, but the policy changed in 2011 to conserve entitlement funds for future semesters. Since the VA now prorates these students, they are often put in tough financial situations.
"I wasn't prepared for how long it was going to be, and I was seriously short on finances," Johnston said regarding winter break. He ended up receiving outside grants that helped cover expenses during the winter gap. His circumstances prompted him to take initiative and help veterans who struggled like himself, and the Break Pay program was enacted.
Lauren Sullivan, manager of the Veteran and Military Student Center, said the program has been highly beneficial, with an average of eight students participating when the program has been offered during winter breaks. "Students have been very happy to have this opportunity," she said. "Veterans can work up to 40 hours a week."
Chad Fawcett, a veteran student at MSU Denver studying history, has been a continuing participant in the program. "They're very accommodating," he said. "It's nice having a stable work environment that's flexible."
Fawcett encourages other veterans to participate in the program since it's helped him when he saw his benefits reduced. "It's hard to find a job for only three weeks. I needed something to do in between semesters, and this program has helped me a lot," he said.
Fawcett ended his stint with the program in June but said he's pursuing a more permanent position with AHEC. "A lot of times, it seems like these turn into full-time positions for veterans that participate in the program," he said.
Veterans have the opportunity to work in variety of positions. Fawcett, who works with AHEC's Facility Services, said veterans who partake in the program can find themselves working in data entry, maintenance and manual labor. "What's nice about it is that it gives you options of where you want to work," he said.
Veterans who are interested in taking advantage of the program have until July 21 to apply. To be eligible, students must be certified (using the GI Bill) for summer 2017 and fall 2017. The program will begin again July 31 and will run through Aug. 18. Students should contact Lauren Sullivan at the Veteran and Military Student Center for more information and to apply. The Veteran and Military Student Center is in the Tivoli, room 243. Sullivan can also be reached at 303-352-4181.
Edit this page