July
Hello my name is: Scott Surine
A semi-regular chat with a Roadrunner you should probably know. And now you (sort of) will.
July 12, 2017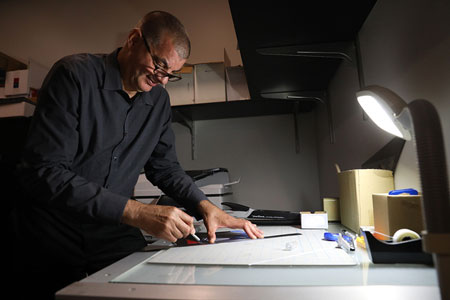 Scott Surine, MSU Denver's interim director of brand strategy, has had a varied career in his time as a Roadrunner.
He started off teaching classes in the Communication Design program in 2005 after 15 years at a Denver-based internationally recognized branding firm. And this past April, Surine took a position in the University's Marketing and Communications office, where he oversees brand strategy.
We caught up with Surine and found out about his experience and his knowledge of branding as well as his contribution to Denver area road signs and his connection to Meshell Ndegeocello.
What's your job here at MSU Denver?
The role is to oversee all things that include the MSU Denver visual brand and to ensure a consistent brand presentation to both internal- and external-facing audiences. Our role at Marketing and Communications is to assist in the success of both academic and administrative departments by creating compelling marketing tools through succinct messaging and visually unified collateral.
I've also been teaching with the Communication Design program — specific courses include two levels of typography and, of course, Identity and Systems, which is all about branding and creating brands. There's also Sight Sound Syntax, which is about finding the common denominator between design and sound.
What's your favorite class to teach?
Probably typography. The reason why is I was fortunate enough to have learned from some of the best in the field of typography. And their knowledge is rare. This knowledge has been passed down to me through my education and I can, in turn, pass this information on to today's students.
Why is branding important?
I like to think of the brand as a metaphorical handshake. It is often the first impression an audience may formulate of your institution. And a strong and consistent brand image and message conveys a degree of both professionalism and establishment within the community. If each department were to create their own look, each may create great design, but when viewed as a whole, would likely appear disjointed and not from the same institution. Consistency is key to branding and creating a strong and positive memorable impression in the minds of our audiences.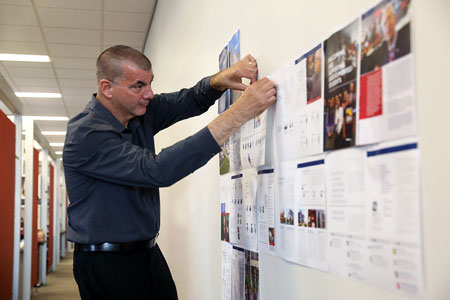 What brands have you worked on?
The E-470 Highway Authority was one of my best clients because they were so easy with which to work. I designed the emblems you see on E-470 as well as ExpressToll and License Plate Toll. When I presented it to them, I said, "Look E-470 is a unique brand — it's not like Wal-Mart and Target where they want you to attract all demographics. Its main function needs to signify that this is a toll road and you want to be on it." So my priority was to make sure that motorists understood they were about to enter a toll road instead of C-470, which was free. The priority was legibility. During my tenure at Monigle Associates, I also created brand identities for the Mayo Clinic, Freightliner Corporation, Avis Preferred, Safelite Auto Glass and the Denver Museum of Nature and Science.
We hear you play music. What do you play and in what styles?
I play the electric bass. I've been playing 45 years now and I like to play a lot of different styles — I've been playing country for the past 15 years. Before that, I played in an African band, a reggae and a blues band.
We also heard you have a pretty interesting side gig. What is it?
In the early-1990s I said, "Hmm. I need a more modern sounding fretless bass." I tried this brand and that brand and I said, "I'm a designer and I play bass, so I'll design my own." I had a prototype made and I ran some ads in Bass Player magazine. Within a few years, I was so busy I had to quit my day job to learn how to build. That was 2004. It's called Surine Basses.
Any famous players?
Tiran Porter of the Doobie Brothers, and David Hyde, who played with Delbert McClinton. Meshell Ndegeocello, too. Reginald Veal, who plays with Branford Marsalis and Paulo Diniz, Jr. — he goes by "PJ" — of the band Jota Quest, the No. 1 pop band in Brazil. Julio Hernandez who was playing with Barry Gibb.
What's your favorite part of being a Roadrunner?
Having the opportunity to work with an awesome team with an innovative mindset.
Edit this page