July
Award-winning excellence: Christine Kuglin, Department of Accounting
Kuglin receives a Faculty Senate Teaching Excellence Award for her work with students
July 11, 2017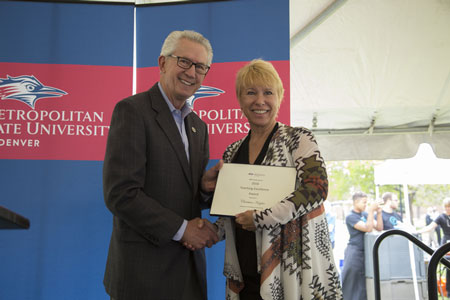 The Distinguished Service and Faculty Senate Teaching Excellence award winners were announced at the recent Faculty and Staff Appreciation Barbecue. Over the following weeks, we're profiling the award recipients and what goes into the making of these remarkable Roadrunner success stories.
Here's our conversation with Christine Kuglin, a former professional-in-residence in the Department of Accounting who's now pursuing a law degree at the University of Denver's Sturm College of Law. She is a 2012 graduate of the MSU Denver Master's of Professional Accountancy program.
What is your background?
I spent over 20 years in different forms of accounting—working as a tax accountant for small tax firms. I was also a NASA grant accountant at the University of Montana for an Earth-observing Systems project. I had various other accounting positions, but I started teaching at MSU Denver in 2013. I taught Principles of Accounting, Intermediate Accounting, and I ran the Volunteer Income Tax Assistance (VITA) program, which included undergraduate and graduate students in an integrated service learning course. We prepared tax returns for the urban Denver area for people of low and moderate means. The program was nationally recognized and won the Best Teaching paper by the Small Business Institute in 2016.
Where do you draw inspiration?
I grew up very, very poor and went to a lot of different schools. My teachers made a tremendous impact on my life. They helped me realize I could change my life's course through education and hard work. Teachers made a big difference in my life.
What's one day on campus you'll never forget?
I think the day that one of my students—Jackie Mai—won the College of Business Student of the Year award. She had come here from Vietnam without any family and went on to earn her Master's Degree and her CPA. I had worked with Jackie in several classes. I nominated her and Dean Murphy allowed me to present Jackie with her award. I knew how much she had overcome. That was one of the best days of my life—to be a part of her journey.
What does this award mean to you?
It was a tremendous honor to have the validation from my peers and that they found that what I was doing was meaningful. There are so many outstanding individuals at MSU Denver who give their heart and soul to students – MSU Denver is so lucky to have so many outstanding faculty and staff. To think that what I was doing was considered special by these accomplished, hard-working people – well that is very humbling.
It's nighttime, and you're reflecting on a successful day. What are you thinking about?
I think about the students. As an example, I had a student named Annie. She was a hospitality major—many students must take accounting and don't want to but they're required as part of the degree program they're in. She was dreading the class and was so stressed that she would fail. I helped her not only get through the class, she earned a B. It makes your life that much better to know that you've done something to help make a student like Annie successful. In Principles of Accounting, maybe only 10 percent of the students are accounting majors—the rest were taking it because it was required. So, to take students who may not want to take Accounting and help them be successful or maybe even grow to like it, that's pretty exciting.
What does it mean to you to be a Roadrunner?
I think I will always consider myself a Roadrunner. Even though I received my undergraduate from Regis and now attend the University of Denver, I received my graduate degree from MSU Denver. I have a great allegiance to MSU Denver. I came from an adverse background and MSU Denver helped me truly reach my potential. MSU Denver gives you a chance that very few places will. The faculty and the staff realize that. They help students to become the best they can be. I will always consider myself a proud Roadrunner no matter where life takes me.
Edit this page