July
Getting a kick out of summer
MSU Denver welcomes youth soccer players to campus.
July 6, 2017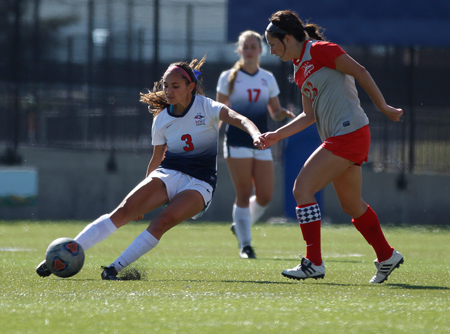 If you see the next Mia Hamm or Lionel Messi soccer superstar running around campus this summer, don't be surprised.
MSU Denver soccer programs are offering multiple camps designed to help young footballers ages 3-18 hone their skills in the beautiful game.
The camps, led by women's coach Tracy Chao and men's coach Jeremy Tittle, attract soccer players from tiny beginners through accomplished high school athletes. They'll work on their soccer skills, make friends and get a peek into life as an MSU Denver student-athlete.
"I think the biggest thing from our perspective is it's an opportunity to experience the game at the college level, but also have fun," Chao says. "Maybe they can learn new moves, but every kid is going to take away something different."
Each day at camp features a theme, which include dribbling, passing, shooting and even celebrating goals. MSU Denver student-athletes work directly with the participants throughout each day.
"The students are able to show the campers that if they work hard enough and they want it enough they can be a student-athlete, too," Chao says. "They also remember why they love the game."
The camps also allow coaches to evaluate some of the players in case they have the potential to become future Roadrunners.
"For us, it's also about bringing the community together," Chao says. "And we can get kids out and let them know more about soccer."
For more information, visit the men's and women's soccer teams online.
Edit this page