June
HSI initiative gets new leader
With Esther Rodriguez retiring this week, the HSI initiative will be helmed by Angela Marquez.
June 27, 2017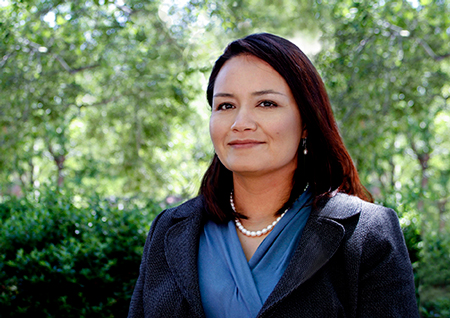 Angela Marquez, Ph.D., was named the new leader of the Hispanic Serving Institution initiative implementation team at its June 26 meeting.
Incoming president, Janine Davidson, Ph.D., made the announcement to the group. "Angela is incredibly qualified and passionate," she said. "Together, we will take this initiative to the next level."

The next level includes hitting 25 percent Latino undergraduate, full-time equivalent enrollment, which will qualify MSU Denver for federal designation as an HSI. Then the University will officially apply for the designation, while also continuing to implement strategies to improve Latino student services, retention and graduation.
"I believe we will make the number this fall," said President Stephen M. Jordan, Ph.D. "We should take a minute and celebrate that achievement, which will be a year earlier than our goal. But this initiative is not just about reaching a number. It's about really engaging with the Latino community to change the conditions for people in our great city. We have more work to do to become a true Hispanic serving institution."

Both Jordan and Davidson also expressed gratitude for outgoing HSI implementation team leader, Esther Rodriguez, J.D., who will retire from MSU Denver this week. Davidson also emphasized how the HSI initiative will continue to remain a top priority for the University.
As she takes on this new challenge, Marquez expressed her excitement to work with the team on such an important initiative.
"I'm so grateful and thankful to be in this room," she said. "Your expertise and commitment to this initiative is the driving force, it's what makes us go, as we work to reach our goal. We are going to do this together for our students."
Marquez also emphasized that the initiative will help all MSU Denver students. Formal designation opens up new potential funding streams that impact programs for all students. The assessment and improvement of services for Latino students will also extend to services that affect the entire student population.
The HSI initiative implementation team will meet again in the fall semester. If you're interested in getting involved in this essential work, contact Angela Marquez at amarqu33@msudenver.edu.
Topics: Hispanic Serving Institution
Edit this page