June
At the core of advanced manufacturing
Advanced Manufacturing Sciences Institute at the AES will offer a degree program with core courses and a range of academic concentrations.
June 21, 2017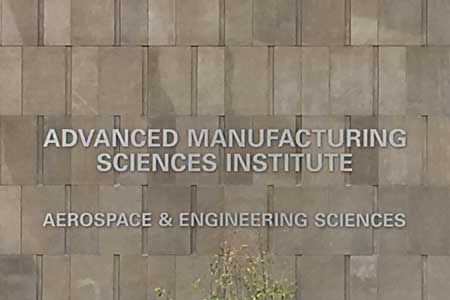 Fall 2018 first-year students who begin the advanced manufacturing sciences degree program will be the inaugural class in the new Aerospace and Engineering Sciences Building. Among the core course topics that they will study are: electronics, trigonometry, technical drawing, manufacturing analysis and computing for advanced manufacturing.
An important core course is "Professional Internship," which gives students the opportunity to work onsite at the AES with one of MSU Denver's manufacturing company partners. This opportunity is unique, and it allows students to experience a multidisciplinary manufacturing environment and to work on one of the companies' projects. Students can establish industry contacts, which can be crucial for future employment.
Students can elect to concentrate their studies within the AMS bachelor's degree program, in one of eight areas:
Aerospace technology
Civil engineering/construction
Computer information systems (including a cyber-security component)
Computer sciences (including a cyber-security component)
Electrical engineering technology
Industrial design
Mechanical engineering technology
Operations management
Within these concentrations are such classes as:
3-D Modeling
Advanced Manufacturing Analysis
Aerodynamics
Building Structures
Composites Manufacturing
Computational Matrix Algebra
Computing for Advanced Manufacturing
Database Management Systems
Direct Digital Manufacturing
Embedded Systems
Engineering Law
Fiber Optics
Orbital Mechanical and Aerospace Systems Simulations
Organizational Management
Physics
Principles of Quality Assurance
Space Flight Operations I
Survey of Advanced Manufacturing
A key opportunity for students is that the Advanced Manufacturing Sciences Institute offers proximity to and actual experience with commercial manufacturers, their advanced technology and high-precision equipment, all within the University's newest building.
Edit this page