May
The hometown of his heart
Josh Buckman hopes to use geospatial science to make a difference in his adopted – and beloved – hometown of Denver.
May 11, 2017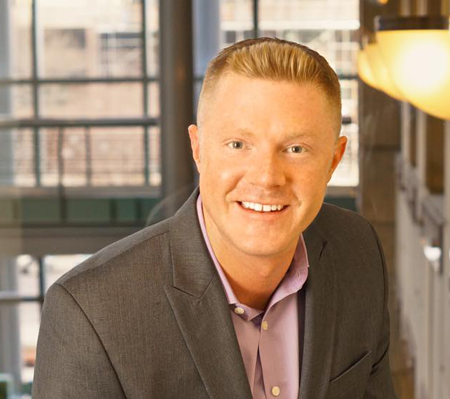 Part of a series of profiles for spring 2017 commencement
It doesn't seem likely: a man born in San Diego, California, and raised in Brussels, Belgium, ends up – after 34 years – discovering his passion in Denver – for Denver.

Likely or not, that's the story of Josh Buckman. And as it turns out, geography plays an even bigger role in his personal journey.

After leaving Belgium, he enrolled in Arizona State University, but says the culture shock sent him searching for something more metropolitan than Tempe. He settled in Washington, D.C. "It was far more similar to Brussels," he says. "I continued in school for several more semesters in the Washington area, but eventually took a semester off, which turned into 15 years."

During those years, Buckman became enamored with data and developed a niche of helping companies use data to improve. He eventually moved to Denver in 2010 and became an independent business consultant in the telecom industry – working with Fortune 500 companies.

Buckman was making progress in his life. He'd found the right place: Denver. And he readily admits that in his job, he worked on "some really exciting projects." But while the projects may have been exciting, deep down, there was no excitement where it mattered most – in his heart.
It was time to go back to school.

After some research, he chose Metropolitan State University of Denver. "The main driver for heading back to school was a feeling that I hadn't yet had the opportunity to work in a career that I was truly passionate about," Buckman says. "MSU Denver was affordable and it worked with people like me – adult learners juggling a variety of responsibilities."

Buckman returned to his first interest – data, and in particular, statistics. But as fate would have it, MSU Denver had just launched a new degree called geospatial sciences. In a nutshell, it's a field that uses data to understand people, places and processes. On a whim, Buckman took an intro course in it.

That's when the magic happened. "I'd always been interested in geography. Frankly, I'm not sure I understand people who aren't fascinated by geography …It's really the study of the world around us. How can we possibly impact the world around us if we don't first understand it?"

He says the course "pulled it all together" for him. "I was really excited to come to class, completing assignments almost immediately. It allowed me to be connected to the data I was analyzing. In statistics, I would be in a world of numbers with little tie back to the reality of the world. In geospatial science, the data was meaningful to me."

And because Denver was in the middle of a major growth spurt, the city became his lab – where he could put his skills and education to work and help the city he'd come to love.

As a student, he worked on the Evans Light Rail station project to examine how the neighborhood has changed as a result of light rail. The research will be used to improve the quality of life for those who live near transit stations, along with the character and sustainability of their neighborhoods. This and other similar neighborhood studies were so strong, he and his team earned grant money from MSU Denver's Applied Learning Center for research expenses.

It also helped him earn a full graduate assistantship at the University of Denver starting this fall. He'll be working toward a master of arts in geography. The position comes with a full tuition waiver and a generous stipend for his time as a teacher and lab supervisor.

When Buckman picks up his diploma from MSU Denver this week, he'll be part of the first graduating class for the geospatial science degree. He'll also graduate with 4.0 GPA and a mission to help the hometown of his heart.

"I absolutely love this city, there's a vibe – energized, joyful and alive. I'm a homeowner here and I hope to eventually raise a family here," Buckman says. "And I would love nothing more than to do my part to help it continue to grow into even more of a sustainable, vibrant, welcoming, exciting, energetic, and economically viable city than it is today."
Edit this page