April
The professor's room
An occasional series that gets within the inner sanctums of academia – because clever people have interesting rooms.
April 5, 2017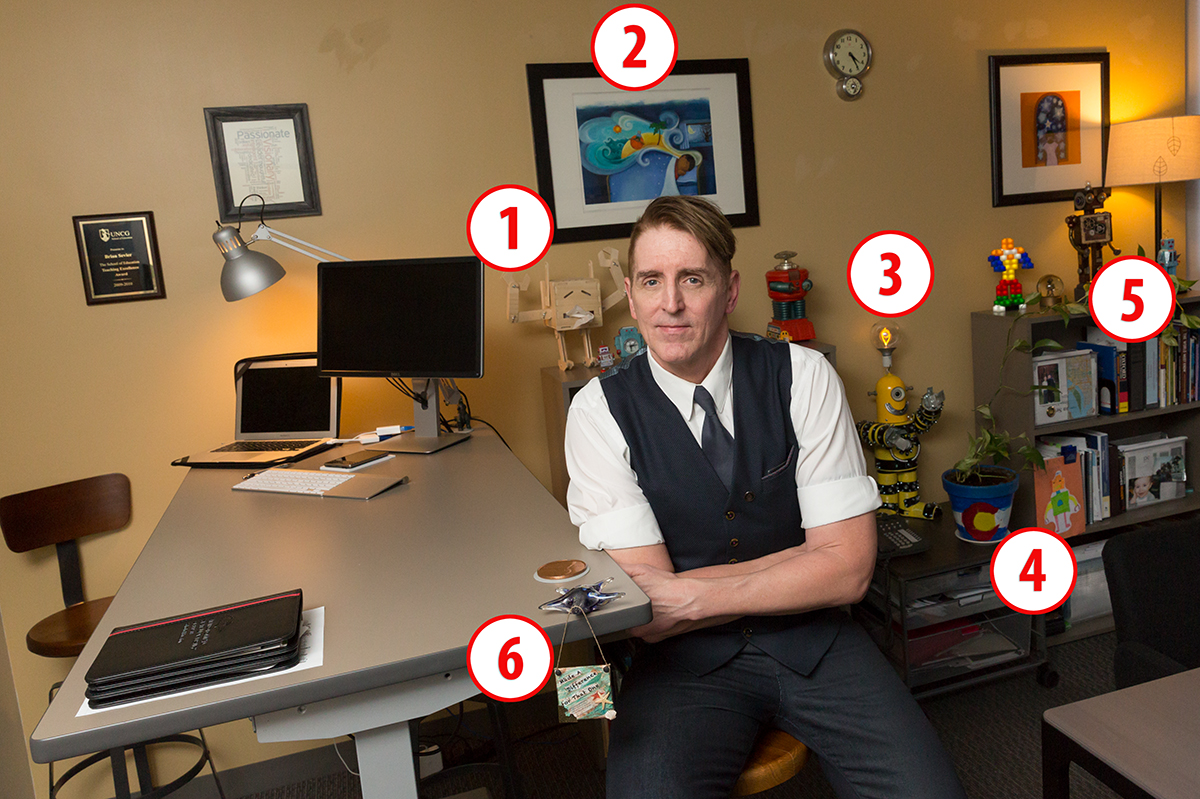 Halfway between sci-fi movie set and low-lit feng shui paradise, Associate Dean of Education Brian Sevier's office is an intriguing marvel.

1. Tissue box

I made this little guy from a kit, to go with all the other robots that I have in my office. I'd never seen anything like a tissue box robot before, so couldn't resist when I found it on a cool website. As for my fascination with robots in general: They remind me of a time when the future was definitely a thing to look forward to. Nowadays, we don't always look forward to it, which is sad. But for me, robots perfectly capture that childhood sense of awe and wonder.

2. Salsa singer painting

This is a painting by the Boulder artist Julie Maren, taken from a children's book she illustrated. It told the inspiring story of Celia Cruz, the salsa singer who grew up poor but still realized her dream of being a successful musician. It's a wonderful book, and Julie, who's a good friend of mine, let me have this original piece of work.

3. Yellow robot

This was made by an Arizona artist who works at a homeless shelter. He turns the cans from their kitchen into these amazing artworks, then donates the money back to the shelter. This particular big guy is called the Idea Minion, and is entirely made from old cans and bits of scrap. I love how it embodies both the value of giving back and the awesomeness of robots – it's the perfect combination.

4. Plant pot

A couple of years ago, I attended a big dinner at the Colorado Department of Education. In a lovely touch, local fourth graders had decorated around 100 big plant pots to sit on the tables. And, since I used to teach Colorado history to fourth graders, they made this for me. Now it just reminds me of all the wonderful kids I taught and why I did it.

5. Little robot

This robot, made entirely from found objects, comes from another Arizona artist. As a social studies person, I love the idea of things being given a different meaning in a different life – so that what was once a washer becomes part of a piece of art. I really admire the artist's vision in seeing the potential beauty and value in everyday items. I see his work as a metaphor for teaching, which is all about recognizing qualities in kids that haven't been seen before, and helping to bring them out.

6. Star fish

You might know the fable of the child walking along a beach who sees hundreds of starfish stranded on the shore, and starts to throw them back. A passing man stops him and says, "You can't possibly save all these starfish!" And the kid, throwing one into the ocean, says, "Well, I saved this one." When I left the state Department of Education, they gave me this starfish and little sign that says "Made a difference for that one." That's what educators try to remember!
p.s. Calling all faculty members…
Do you have an interesting office – and would you like to feature it in our series?

Just email Dan Vaccaro.
Edit this page