March
MSU Denver accounting students offer free tax preparation
Students in the Volunteer Income Tax Assistance program help individuals earning less than $54,000 in 2016 with tax returns.
March 14, 2017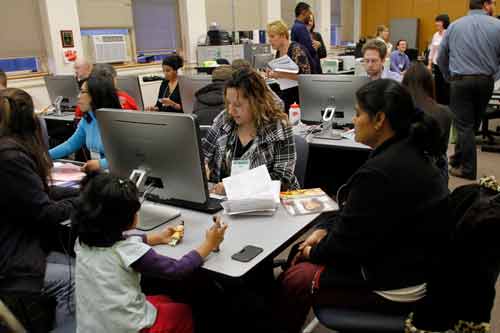 Students in Accounting Affiliate Professor Robert Persichitte's Volunteer Income Tax Assistance course are offering free tax preparation services to individuals earning less than $54,000 in 2016.
MSU Denver has been a supporter of the IRS-sponsored VITA program for more than three decades, helping Denver area lower-income individuals and families with their tax returns.
The free tax preparation program began Feb. 2 and will run through April 13. All appointments are available by walk-up every Thursday in MSU Denver's Student Success Building, Room 234, from 5:30-8 p.m. to those who qualify. The typical tax filing can take anywhere from a half hour to an hour and 30 minutes depending on the complexity of the return.
Students will also offer walk-in tax preparation at the Emily Griffith Technical College on Monday from 5:30-8 p.m. Clients should arrive by 7 p.m. to receive services. Student tax preparers will use IRS TaxSlayer software to file returns electronically on behalf of clients. All eligible students, faculty and staff are encouraged to take advantage of free tax assistance by visiting the locations on and off campus.
MSU Denver's VITA program is one of the few that integrates both undergraduate and graduate students, creating opportunities for students to assume a variety of roles based on their experience and interest. In addition to filing returns, students may serve as site coordinators, small business consultants and student mentors, creating opportunities to practice leadership and management skills.
To be eligible to participate, graduate accounting students must have previously volunteered in a VITA program as an undergraduate or worked in a tax firm for at least one year. All student tax consultants in the VITA program receive certification as volunteer tax preparers with oversight from credentialed professional faculty.
MSU Denver's VITA class is affiliated with the Emily Griffith Technical College and the Piton Foundation, a group of community-based nonprofit, government and private organizations.
Edit this page