March
A spring in his step
He didn't look like a man approaching retirement.
March 9, 2017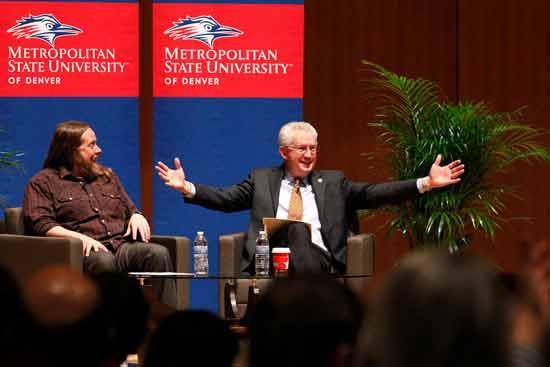 MSU Denver President Stephen M. Jordan, Ph.D., may be hanging up his academic robes later this year, but at his final President's Spring Update Breakfast yesterday he was as well informed and enthusiastic as ever. Following a bright and early 7:30 a.m. breakfast at the King Center, Jordan started by addressing the budget, noting that – despite a strong performance by MSU Denver this year – because of a state budget shortfall, there is a possibility the University might see a small cut in funding. More details will follow after the student census in September.

The president then gave a brief overview on four current top priorities.

Accreditation
Jordan encouraged everyone to attend open forums planned for April 10 and 11 when reviewers from the Higher Learning Commission will visit campus. "Accreditation is the threshold through which we become eligible for financial aid," he said, "so it's absolutely essential for our students."

AES building
MSU Denver will be partnering with companies, such as York Space Systems, to be tenants in the new building. "This means our students will get to work with industry experts – an incredible learning opportunity," Jordan said. The ribbon-cutting ceremony for the building will be on June 22.

HSI initiative
It looks very likely that MSU Denver will meet its goal to become an HSI institution this fall. Find out more about HSI.

Shared governance
Jordan talked about the University's governing progress based on institutional expertise and transparency. Find out more here.

During a Q&A session, the president spoke movingly about his legacy and the pride he felt in "our shared accomplishments." He also was candid about his regrets (no transfer program in the First Year Success program), shared tales of terrible golfing, and even recited a Rabbie Burns (Scottish spelling) poem. And as for post-retirement life? Later this summer, Jordan and his wife, Ruthie, will be going on a river trip through southern France. They have earned it.

If you couldn't make the event, you will be able to see it here.
Topics: Hispanic Serving Institution
Edit this page