February
Breakfast with the President
Dr. Jordan invites you to his 2017 President's Spring Update Breakfast. Make sure you save the date! Follow the link for details.
February 28, 2017
We're anticipating seeing every single Roadrunner faculty and staff member at the King Center for breakfast on the morning of March 8. Visit with colleagues and get University updates from President Jordan. Faculty Senate President Matt Makley will moderate a question and answer period when you'll have the opportunity to ask Dr. Jordan your own questions.

"We're taking a different approach to this year's spring update and looking for questions ahead of time from the University community," said Chief of Staff Cathy Lucas, adding that the questions can be as serious as, "'how does the state's budget look?' or as light-hearted as, 'what's your favorite vacation destination?'"

You can submit questions ahead of time by emailing Tiffany Snell at tsnell3@msudenver.edu or bring them with you the day of the event.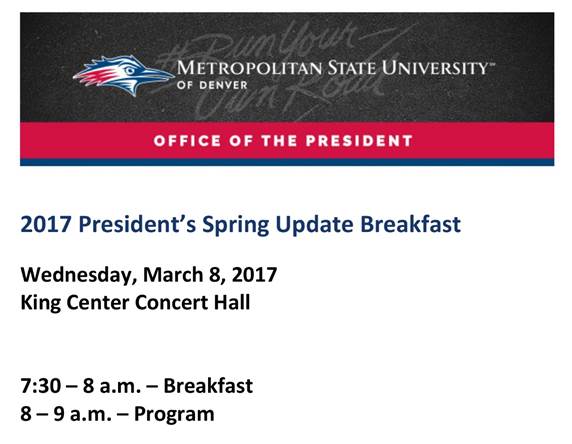 Edit this page