February
Why Jill Scott really digs fossils
The recent fossil discovery in South Africa of a whole new human species made global news. One of our staff members was right in the thick of the action.
February 16, 2017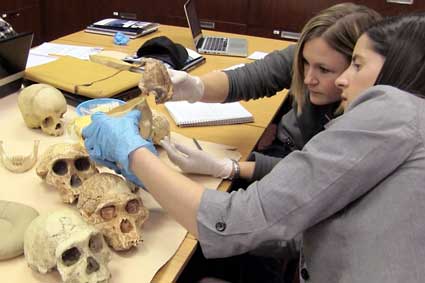 Deep in a South African cave three years ago, two adventurous spelunkers discovered a hidden chamber with hundreds of fossil fragments belonging to Homo naledi, a whole new species. To study one of the most significant finds in the past 50 years, the project's leader put out a call for young researchers to help analyze 1,550 fossil pieces, and Jill Scott, now MSU Denver Department of Sociology and Anthropology laboratory coordinator, didn't hesitate to put her name forward.

Scott, a paleoanthropologist (she studies human fossils, in layman's terms), was an ideal fit for the project and flew to South Africa in spring 2014, where she joined 30 other young researchers to analyze the massive find over five grueling weeks. "They had actually live-streamed the original excavation," she recalls, "so even from America I'd been able to see the amazing amount of material they were pulling out. I was completely excited about this project before I even got involved."

It was a career opportunity of a lifetime for Scott – the kind of work she has dreamed of while working on her Ph.D. in anthropology. And her hard work has paid dividends. Since the discovery, Scott has coauthored several articles for prestigious science journals, including – most recently – features on "The skull of Homo naledi" and "Skull diversity in the Homo lineage and the relative position of Homo naledi."

Looking back, Scott says, "Obviously, it has been so exciting to contribute to this project in such a significant way. At heart, this is a study of ourselves – it's about who we are and where we came from."

Read our feature about this fascinating discovery.
Edit this page