January
Presidential Search Committee update
Semifinalists will meet with trustees and a group of University stakeholders.
January 10, 2017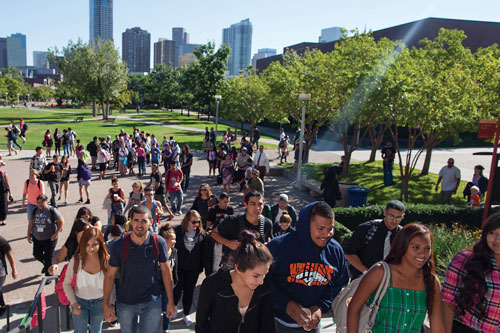 After spending three days interviewing a pool of candidates last week, the Presidential Search Committee presented semifinalists to the MSU Denver Board of Trustees. At prior meetings (late 2016), the Presidential Search Committee gathered to review a large pool of applicants and selected a focused group of qualified candidates to interview in person.
The semifinalists will meet with the trustees and a group of University stakeholders over the next couple of weeks. The meetings with stakeholders are intended to give broad-based feedback and input to the trustees as they consider the appointment of the next president for MSU Denver. Participants will include members of Faculty Senate, Council of Chairs, Classified Staff Council, Council of Administrators, Student Government Assembly, senior leadership, alumni and the business community. Following these meetings, they will be asked to provide feedback about the candidates. To ensure confidentiality for the semifinalists, these stakeholder representatives will sign confidentiality agreements prior to participation.
The board will then deliberate and present a finalist, who will be introduced to the campus at public meetings.
"This is one of the most important decisions we make as a board and as a university. We want to ensure that we find the very best candidate who will build on the sustained growth and transformation achieved during the last 12 years under Dr. Jordan's phenomenal leadership," said Trustee Chairperson Michelle M. Lucero.
This schedule aligns with the timeline to name a new president in February.
Edit this page