December
Preeminent students at a preeminent urban university
Fall Commencement: President's Award and Provost's Award winners exemplify the best of MSU Denver's students
December 15, 2016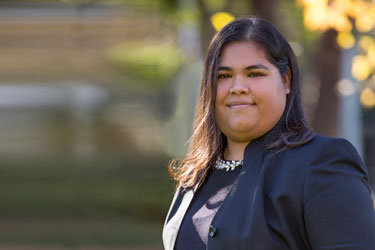 Ariadna Ochoa Magallanes
Double majoring in modern languages and Chicana/o studies. Working as a specialist in the Immigrant Services Program. Volunteering with a NASA and UNAM scientist to translate important environmental research.

Those accomplishments are all in a day's work for Ariadna Ochoa Magallanes.

Over the course of her time at MSU Denver, she has blazed a path of hard work, resilience and personal transformation. And as she nears the end of her college journey, she continues on the path to helping others realize their own transformative potential.

Ochoa Magallanes immigrated to the United States with her mother and younger sister from Coahuila, Mexico, after witnessing violence in the streets in front of her house. That violence kept the intellectually motivated student out of school for two years before being able to relocate to Denver and continue her goal of attending college.

"Education is very important in my family," said Ochoa Magallanes. "My mother always says that education is the only thing you have that you can take with you anywhere."

Currently, as an interim Immigrant Services Program specialist in the Student Academic Success Center, she has found a calling in helping to empower others. She believes that she's received more from her experience than she gives. "We are constantly learning new tools and skills," she said. "I've developed more self-confidence and public-speaking abilities that are helping me succeed in my classes and future career." And in uncertain times, she strives to be the bedrock to the foundation of student success; something she hopes to continue into graduate school for higher education administration.

"I know I have a lot of privilege and want to reassure others that education is the greatest tool we have," she added. "I'm going to do everything in my power to help with that."

In addition to her studies, Ochoa Magallanes is a research assistant in the Chicano/a Studies Department and served on the committee for the Richard T. Castro Distinguished Visiting Professorship. She was instrumental in bringing UCLA law professor Laura Gomez, Ph.D., to MSU Denver in October. The resulting event was an interactive conversation of the parallel identity experiences faced by individuals in both Southern California and Colorado. "It really became a conversation about how people see themselves," said Ochoa Magallanes. "That means looking at the labels you have and how others place them on you."

When asked what she does to recharge, the answer was easy: spend time with family. "My mom has fibromyalgia and I'm her primary caretaker," she said. "I love spending time with her, watching her have adventures and taking her places."

Ochoa Magallanes's mother and younger sister are each other's best friends and cheerleaders. Her sister Tanairi is also studying at MSU Denver as a human services major.

"I'm happy here," Ochoa Magallanes said. "MSU Denver is my second home."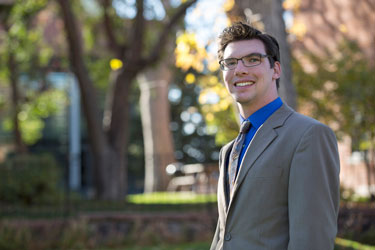 Levi Appenfelder
Levi Appenfelder lives by his faith.

It can be seen in the way he helps others through tutoring, volunteering for local events, organizations and nursing homes, and in teaching a new converts class at his church.

His serving spirit, however, can also be attributed to the help he received from Shriner's Hospitals, a network of nonprofit medical facilities.

"Inspiring and teaching others is my passion," Appenfelder said. "This passion was implanted in me, in part, by the Shriner's Hospitals."

Appenfelder knows Shriner's Hospitals very well. The 25-year-old has cerebral palsy, which was caused by a stroke he had as an infant. His diagnosis left him in need of multiple medical procedures, including surgery on his hands and legs. At age 16, he was flown to their Chicago location more than 20 times in a year for doctor's appointments after receiving jaw surgery. It was during one of these visits that he found his career path: becoming a medical illustrator.

"It was a spur-of-the-moment inspiration," Appenfelder said. "The doctor showed me the little room where they made the 3D model of my jaw, and they used that as a model for the surgeons to go off of when they did the surgery."

Through his medical illustrations, Appenfelder hopes to make a difference in the medical field, just as Shriner's Hospitals made a difference in his life. In addition to improving his quality of life, the network paid for the entirety of his medical expenses.

Inspired by the network's generosity, Appenfelder offered to design their 2011 El Jebel Shrine Circus poster and worked as a salesman, game booth operator and greeter for two years.

At MSU Denver, Appenfelder has volunteered for the Access Center and other University events, led study sessions with students, and designed a coloring book for its STEM program – all while maintaining a 4.0 GPA, a national scholarship and membership in the Alpha Delta Pi Disability Honor Society.

"Despite what doctors have said about my disability, I have reached physical standards beyond all expectations," Appenfelder said. "I owe much to God, family, friends and professors who have molded me."

Appenfelder is considering grad schools for medical illustration. He plans to continue to help people through his church, and he hopes to one day work with children to help them defy the odds, too.
Edit this page