December
Memory, experience and gratitude
Graduating senior reflects on her time at MSU Denver and the lasting impact of her Roadrunner education.
December 15, 2016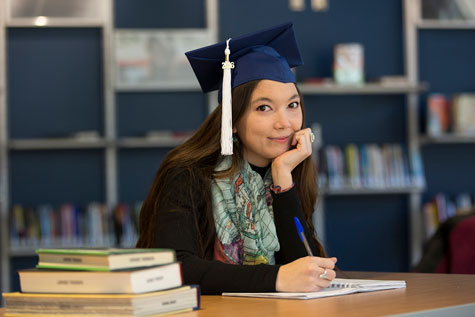 As the anticipation of graduation grows stronger with each new day, I am left to think about the successes and failures I've experienced during my undergraduate career. My journey at MSU Denver began two-and-a-half years ago with a last minute decision to stay in Denver and not return to college in Durango. Long story short, Durango is expensive and I am not rich.

The decision to stay was unnerving – I was already registered for my classes there and had just transferred from Clark College in Vancouver, Wash., the year prior. The process of transferring to college in Durango was a complete nightmare. When moving from one school to another, the transferring of credits is never guaranteed. Though you gain the knowledge, certain courses become wasted if they don't make it to your final transcript – the one that dictates whether or not you've met all the requirements to graduate. I lost several class credits that I know should have been transferred.

But, when I came to MSU Denver, the transfer process was easy, and I soon realized that I made the right decision for my future. I worked with multiple people at the University who ensured that I received the credits I deserved. The students working in Admissions were very helpful, and I had a wonderful advisor from the English Department, Dr. Parker, who helped me with my mountains of paperwork. Sometimes registering for classes can be confusing and complicated, but Dr. Parker set me on this memorable path, which I am soon to complete and has set me up for success. I can feel it.

I am the daughter of a retired, disabled veteran and an IT application analyst, and my parents instilled the importance of college education in me at a very young age. My father, the veteran, never received any higher education. My mother put herself through some college after having my brother and me, and has worked so hard to get where she is today. Both of my parents always pushed me to set myself up for success.

I never would have guessed, walking into my first class, that it would be the most eye-opening of my undergraduate career. It was American Literature: Civil War to Present, and I received my only-ever F on the first exam we took. I didn't pay attention when the professor said that we didn't have to produce formally written essays for a portion of the test; she said we could do bulleted lists instead. I spent all of my time trying to write perfect essays and did not even complete the test. I was given no free pass and spent the rest of the semester trying desperately to pull up my grade. I spent hours each night on homework, never missed a class, and finished with an A-minus. I am grateful that the professor forced me to work so hard for what I wanted – a good grade – because it helped me recognize the rigorous and rich education I was receiving.

In a rhetoric class I took with an amazing professor, Dr. Suter, I was introduced to a man who is now my supervisor for my internship. Dan Vaccaro, the senior content strategist and news director of the Marketing and Communications Office, visited our class to talk about the career possibilities for English majors (teaching isn't the only option). He himself has an English degree and works for our University's Marketing and Communications Department. The internship, which I began in May of this year, has been one of the greatest experiences of my life. I have learned so much, developed many valuable skills, gained real-world work experience and made connections.

I was hired to help grow our University's Instagram account, but I've also written stories for the MarComm Department and began to start up our Snapchat account as well. As a writer, being given these opportunities has opened doors that I never imagined. I am confident and eager to begin a new chapter in my life as a college graduate.

When I leave MSU Denver, I know I'll be carrying more than simply what I have learned. I'll be leaving with memories, experience and gratitude.
Edit this page