November
Connecting the dots in CAVEA
Professor Janet McClaskey reflects on a mesmerizing art installation re-created by Center for Advanced Visualization and Experiential Analysis staff.
November 16, 2016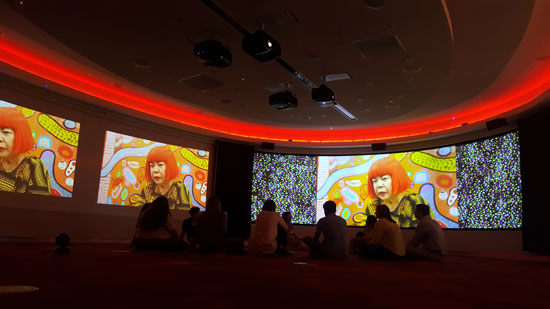 Mirrors cover the floors, ceiling and walls. The room is dark, lit by strings of tiny LED lights hung from the ceiling that slowly flicker on and off, swinging about as visitors bump into them. Only a handful of guests are allowed in at a time. All is silent except for the hushed voices of surprised guests as they make their way through the intermittent blackness.
This is a re-creation of artist Yayoi Kusama's installation in the Phoenix Art Museum: "You Who Are Being Obliterated in the Dancing Swarm of Fireflies."
In late September, CAVEA staff re-articulated this visceral experience for MSU Denver honor students as part of a class called Making Meaning Through Our Things. Footage of Kusama's exhibit was played on the walls. A swirling disco ball sat on the floor, and strings of created LED lights swung from the ceiling, replicating Kusama's installation. Students wandered around in the re-creation, wearing 3-D glasses to enhance the feeling.
After a few minutes of wandering the room, we gathered on the floor to discuss our experiences. The CAVEA staff had so successfully re-articulated the installation that participants were able to express Kusama's themes of environmental art, the expanse of the universe, and the feeling that there is something greater than what we know, much greater than what we experience in a never-ending space, even before they learned about the artist.
This initial immersion was followed by a portion of the feature film "A Life in Polka Dots." We learned of Kusama's difficult childhood in Japan when her mother took away her paints and insisted she marry a rich businessman instead of being an artist. But Kusama drew and grew, making her way to the New York art scene where her "infinity nets" artwork expanded, climbing off the paper and up the walls.
Just as she had fought her way through the conservative norms of her Japanese family, she broke through the male-dominated pop art scene of Andy Warhol and Claes Oldenberg into conceptual art fame, only to return to Japan where she wasn't well known. At 87, Kusama currently resides in a mental hospital in Japan, making the trip across the street to her studio where she works eight hours each day with a team creating her visions.
After learning about the artist, honors class participants created an in-real-time word cloud, texting words and phrases they had synthesized from their initial experiences and the artist's history. A second video clip provided advice directly from Kusama.
"I'm not your art teacher," she said. "Go do your own deep thinking and bring from your own wealth of creativity that which is beauty and love and will heal the world."
Participants wrote about what they could offer the world on large colored dots, and evaluations showed that every one enjoyed the experience.
We share our experience, hoping to challenge other groups to envision new ways to use the extensive resources CAVEA has to offer. The space is visionary and so are the staff members, who are open to using their creativity to make each experience a memorable one for those who visit.
Connect with the CAVEA staff using this form.
Edit this page