November
User alert: James Lyall to step down
The CIO will leave the University at the end of the month. Kevin Taylor was named interim CIO and AVP of Information Technology Services.
November 7, 2016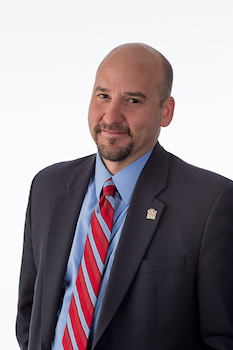 James Lyall will be leaving the Roadrunner family at the end of this month. He accepted the CIO position at the National Renewable Energy Laboratory (NREL) in Golden, Colorado, a unique opportunity that he couldn't pass up.
"I am so appreciative to Provost Golich and all of my colleagues in Information Technology Services for the opportunity to have been a part of MSU Denver," he said. "ITS has been very fortunate to work with a great Academic and Student Affairs team, which has facilitated our development of a strategic, transparent and service-oriented organization."
Kevin Taylor has been named as the interim CIO and AVP of Information Technology Services.
"Please join me in congratulating James on his new position," said Provost Vicki Golich. "More importantly, join me in thanking him from the bottom of our collective hearts for all he has done to create a great culture of service in the Information Technology Services branch, to enhance and improve the robustness of our technology infrastructure, and for making technology so much easier to use on campus. We owe him an immense debt of gratitude for all he has contributed to making MSU Denver a better place to live and work. We will miss him greatly.
"Also, please join me in welcoming Kevin Taylor into his new interim position."
Edit this page